The people of Claflin can breathe easier these days, thanks to the implementation of several smoke-free policies throughout the community. Although finding the resources and support to establish smoke-free policies proved to be difficult, in collaboration with the Health for Life Coalition of Hoisington and Northern Barton County, Clara Barton Hospital and Clinics, and Pathways to a Healthy Kansas, the city of Claflin is excited to announce the successful implementation of these smoke-free policies.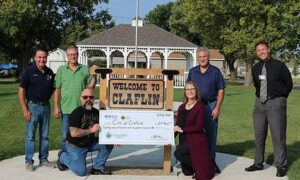 ​"City leadership was strongly supportive of these policies, which was a key element for successful implementation and enforcement," said Karla Crissman, Pathways Grant Coordinator at Clara Barton Hospital and Clinics. "The adoption of these policies demonstrates the city's commitment and dedication to the health and wellness of their community."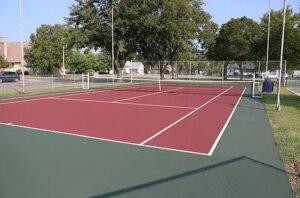 In 2018, the city of Claflin implemented a Smoke-Free/Tobacco-Free policy in multiple city facilities: Claflin City Hall, Claflin Recreation Center, Claflin Community Center, Claflin City Shop, and the Claflin Pool. This allowed the city to receive $20,000 in grant funding from Blue Cross Blue Shield of Kansas, adding to community donations collected in support of the revitalization project on Main Street. The revitalization project included the installation of a sidewalk, a flagpole, benches, a 'City of Claflin' sign and a gazebo on main street, currently still in progress.
This year, the Tobacco-Free policy expanded to all Claflin city parks. Grant funding for this policy totaled $9,960 and was used to resurface the tennis court in the city park and replace the fencing. This project was chosen to encourage families to engage in healthy activities and to update park amenities to better serve the community. Additionally, the city park tennis court is able to be utilized for tournaments and high school athletics.
​"I would like to thank Clara Barton Hospital, Blue Cross and Blue Shield, and all organizations involved, for the opportunities these grants gave our city," said Claflin Mayor Mike Urban. "With the help of community members, in conjunction with these grants, we were able to make some fantastic additions to our community. In small towns, funding these projects can often be difficult and we are truly grateful for the grant funding that helped us bring these projects to life."
​Pathways to a Healthy Kansas is the largest community grant program ever funded by Blue Cross and Blue Shield of Kansas. The Pathways program provides community coalitions with the tools and resources needed to remove barriers and engage their communities in ways that enable healthy eating and tobacco-free, active living to become a way of life.