Memorial Day is a time to honor our fallen heroes and those that have fought for the freedoms we have today. Many use this day as a time to also remember lost loved ones, adorning gravesites and visiting cemeteries to pay their respect. Over the years, the Clara Barton Hospital Foundation has received a variety of thoughtful gifts from those wishing to memorialize the life of someone special to them while contributing to the programs and services offered at Clara Barton Hospital. In celebration of Memorial Day, the foundation is excited to unveil the new memorial recognition plaque installed in the hospital's administrative hallway.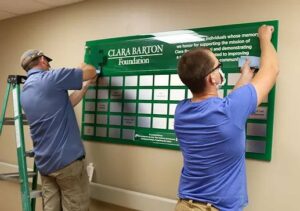 "Memorial gifts have, and continue, to be a testimony to the impact a life can have, even one that is no longer with us," said Michelle Moshier, Director of the Clara Barton Hospital Foundation. "We are offering the opportunity to honor the legacy of someone near and dear to you that has passed while also helping to advance medical care for the future of this community. This Memorial Day, we would like to reflect on the lives and memories of loved ones that have supported our mission through recent memorials."
​In 2014, the capital campaign that funded the physical therapy expansion, received multiple memorial gifts that proved to be instrumental in its success. Many names are displayed on the existing campaign donor recognition wall in honor of their generosity. Now that the capital campaign is complete, the newly installed memorial plaque will allow the organization to continue to recognize those who demonstrate a spirit of giving with a cumulative gift of $500 or more to the foundation.
​In recent years, the foundation has received interest from members of the community, wanting to memorialize a loved one in an alternative way that was more visible to the public. It was then decided that black iron memorial benches, fabricated by Bruce Bitter and B&B Metal Arts, would be an additional memorialization option that would be visible on the hospital's grounds.
​Within the last month, a memorial bench was installed outside the Emergency Room entrance, in memory of JoAnn Bieberle. The family worked with the foundation to designate her memorial funds to support 3D Mammography and fabricate the memorial bench, leaving a piece of her legacy for others to enjoy and reflect upon.
​"For several years, my department and I had noticed that the ER entrance didn't really have a place for someone to sit and even make a simple phone call in private," said Betty Evers, Director of Radiology at Clara Barton Hospital and daughter of JoAnn Bieberle. "My sisters and I thought it would be special to honor our mother and give patients' families and even staff the opportunity to pause, sit, and enjoy a moment of peace."
Similarly, in May of 2015, Larry Haxton's family directed part of his memorial funds to support the therapy services expansion and the installation of a memorial bench outside the therapy services building in his memory.
​Currently, there are 11 individuals displayed on the newly installed memorial plaque. This piece was specifically designed to be a beautiful reminder of those that are gone, but not forgotten, while honoring their legacy of giving. If you would like to learn more about memorial giving and other gift opportunities with the Clara Barton Hospital Foundation, please contact the Director of the Foundation at 620-653-5012.