Clara Barton Medical Center offers a variety of in-patient and out-patient services, many of which revolve around the in-house pharmacy. Pharmacy staff plays a key role in preparing, storing, compounding, and dispensing medicines as well as advising healthcare professionals on their safe, effective, and efficient use. Last week during National Pharmacy Week Clara Barton's pharmacy department had something extra special to celebrate thanks to the Clara Barton Foundation and community benefactors, as their newly expanded and renovated space nears completion.
Even though Clara Barton is a non-profit rural hospital, they are still held to the same regulatory standards as other larger hospital organizations. One glaring issue that arose over the years was only having a segregated compounding area and not a full-functioning compliant cleanroom, meaning everything is done in one small space.
In addition to the growing pains associated with adding new services and providers, pharmacy staff quickly ran out of space and storage operating out of a cramped 354 sq. ft. room. In 2020 alone 208,900 doses of medication were dispensed. That number increased to 255,505 in 2021 and is predicted to surpass that yet again in 2022.
"Behind the scenes, many don't realize the amount of inventory we have to keep on hand for the number of patients we serve and various services and treatments we offer at our facility," said Amanda Hoffman, Pharmacy Director/VP. "While it's exciting to be part of such a progressive organization, the pharmacy we currently work out of is still the original 1950s layout and restricts our capability of future growth."
While the pharmacy expansion wasn't in the original construction plans, it was discovered that having a separate cleanroom with a compounding hood would soon be a requirement as new regulations emerged. Drug compounding is an essential process in the pharmacy where they combine ingredients in-house to create a medication tailored to the needs of the patient. Numerous patients at Clara Barton rely on this process in the form of IV medications.
It became apparent that a pharmacy expansion was more of a necessity than a "want", and the Clara Barton Foundation stepped up to fundraise for construction costs. Foundation membership and event proceeds gained support from both near and far, raising over $115,000. These contributions came from local businesses, community members, employees, family members, and friends of Clara Barton and the foundation.
"We are extremely grateful for everyone that made this expansion possible, allowing us to comply with these new regulations," said Hoffman. "Not only will this ensure the safety of our patients and staff, but it will also enhance the care and treatment of all patients we serve. Year after year, community support has been crucial to our organization's success and we truly appreciate every single person who made this project possible, so we can maintain the highest standard of pharmaceutical care now and well into the future."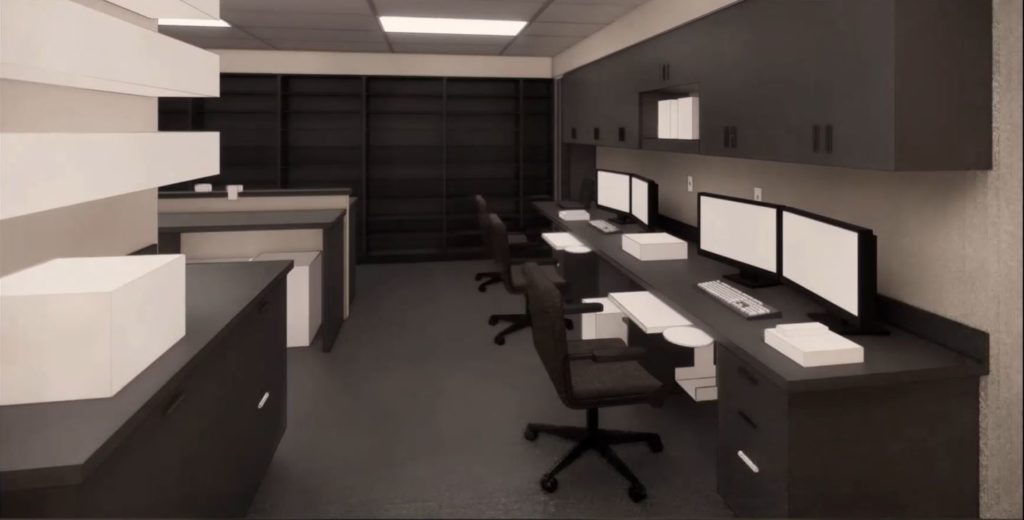 The new, expanded pharmacy is on track to be completed by November 18th. It will feature a separate clean room, centralized pharmaceutical storage, a designated workspace for staff, increased security and safety, and ample room for future growth.
As the pharmacy gets ready to move into its newly expanded space, the foundation has taken on a new project – bringing the comforts of home to Clara Barton with the addition of 13 La-Z-Boy treatment recliners to the ER, OR, and nursing floor.
In the spring of 2021, a $132,000 grant was instrumental in funding a multi-functional procedure room available for both IV Therapy and ER patient care, a large infusion treatment room, and a private infusion treatment room. While the expansion of the ER's outpatient services and infusion area will allow for better patient flow and access to services, the grant doesn't cover the cost of furnishing these expanded areas.
"Healthcare is constantly changing and advancing, requiring continuous investment in our facilities, equipment, and programs," said Michelle Moshier, Clara Barton Foundation Director. "Dynamic improvements like the renovations to the in-house pharmacy and addition of IV infusion rooms, would not have been possible without the support of donors. The standard of care at Clara Barton Medical Center has been ever-increasing thanks to philanthropic support. We are grateful for charitable donations of all sizes that help advance the health of our communities."
Foundation membership and community support have been essential to the success of Clara Barton Medical Center. If you would like to become a foundation member or help with their current fundraising project, visit www.clarabartonhospital.com/membership or call the foundation office at 620-292-0814.