It's beginning to look a lot like Christmas this week at Clara Barton Hospital and Clinics. The first allocated doses of the COVID-19 vaccine were delivered on Thursday and CBH was excited to begin vaccinating their frontline healthcare workers that afternoon.
​The FDA approved emergency use of the Pfizer vaccine December 11th, and this week Clara Barton is participating in one of the biggest vaccination efforts in American history. Initially, around 3 million vaccines shipped nationwide and were distributed throughout the states based on population. The state of Kansas notified healthcare organizations Wednesday afternoon that vaccines would be arriving the next day.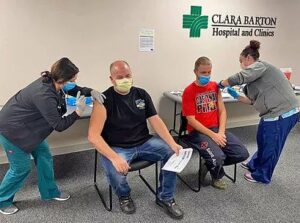 "It truly feels like a Christmas miracle that we are receiving these vaccines right before the holidays," said Amanda Hoffman, Director of Pharmacy/Vice President at Clara Barton Hospital. "This year has been difficult and challenging for many of our employees and some see this vaccine as the light at the end of the tunnel."
​The first case of COVID in Barton County was reported in March and numbers began to surge throughout the summer. Providers worked diligently, both testing and treating what seemed like an ever-increasing number of patients. As talk of vaccine approval neared, interest was sparked within local medical professionals.
​"This new type of vaccine is something I'm really excited about," said Dr. Kyle Renner, Family Practice Physician at Clara Barton. "Several years ago, after the SARS outbreak, researchers were working on this type of vaccine but fell short on funding once the outbreak was contained. The one good thing that came after COVID hit, was that our country and the medical community poured all our resources into developing this product to hopefully give us the antibodies and long-term immunity that we desperately need. We are witnessing a moment in history and I would highly recommend this vaccine to my patients."
​Dr. Renner along with Dr. Nathan Knackstedt, Internal Medicine Physician and P.J. Stiles, General Surgeon at Clara Barton, were among the first of many providers and frontline workers to receive the COVID vaccine Thursday afternoon and will receive their second round of the vaccine in 21 days. At this time, no date has been determined when the vaccine will be available to the rest of the employees and administered to the general public.
​"Once the vaccines arrived, we immediately noticed our employee's spirits lifting", said Jim Blackwell, Clara Barton Hospital President/CEO. "After such a trying year, I am amazed by the resilience of our staff and I can see that this vaccine has truly spread a terrific feeling of hope for what is to come on the horizon."